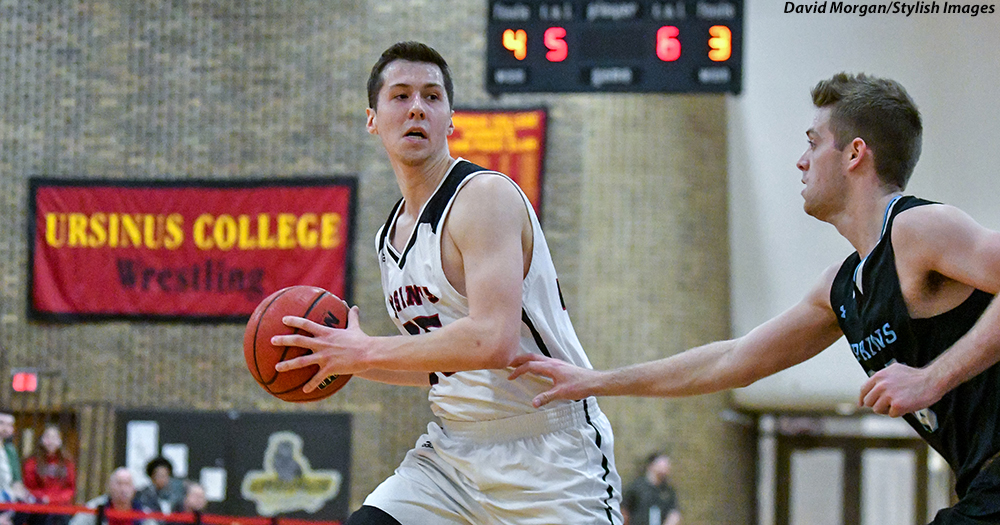 MECHANICSBURG, Pa. – Ryan McTameny joined the 1,000 point club and the Ursinus College men's basketball team (3-1) defeated Clarks Summit, 92-62, to win the Messiah Tip-Off Tournament consolation game.
Trailing 6-4 in the early goings, Ryan Hughes hit a jumper to tie the score at six apiece and then the Bears offense exploded. Ursinus hit five of its next seven shots to go on a 14-0 run. McTamney cashed in on a Jimmy Kpadeh steal while Bruce Edwards and Kpadeh hit back-to-back treys to put the Bears up 18-6.
The Bears kept the pressure up as Edwards went on to score 18 points in the opening half. His 18 first-half points marked the most in a single game in his career. The junior teamed up with Kpadeh to slam in a dunk and then nailed a 3 to double-up Clarks Summit, 44-22. The Bears went into the half leading 44-25.
Ursinus extended its lead to 26 out of the half after a McTamney layup made it 55-29, capping off a 9-4 run. On his way to 21 second-half points, McTamney cashed in on a free-throw with 9 minutes remaining, also hitting an incredible milestone for his career. The free throw marked career point number 1,000 for the senior. He becomes the 29th player in program history to hit the 1,000-point mark.
Matt McMahon made it a 30-point lead with a lay-up with eight seconds remaining.
McTamney led the Bears with 27 points, 21 of which came in the second half. Edwards was behind him with 18 points and was a team-high +29 in plus/minus with six rebounds.
The Bears are back in action on Thursday when they travel to Rosemont.