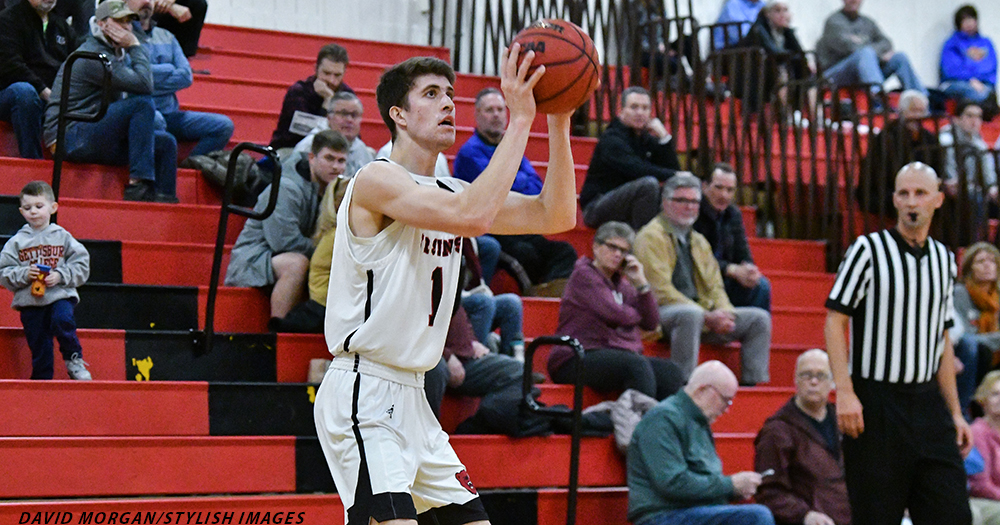 WILLIAMSPORT, Pa. – Ryan Hughes scored a career-high 25 and freshman guard Jimmy Kpadeh added 12 more as the Ursinus College men's basketball team stormed past St. Vincent, 73-58, in the opener of the Dutch Burch Tip-Off.
The Bears fell behind 9-4 in the early goings after the Bearcats made three consecutive treys right out of the gates. Trailing by two, Ryan McTamney sparked a 9-0 Ursinus run with a layup and then capitalized on the and-one to give the Bears a 13-12 lead. Lucas Olshevski finished the run with a layup and pair of free throws to put Ursinus up 19-12.
Another St. Vincent three-pointer tied the game at 19 before the Bearcats retook the lead at 23-21. The rest of the half was back-and-forth with neither side able to gain separation. Ryan Hughes tied the game with a lay-up at 23 and then Kpadeh knotted the score at 26 with one of his two threes on the night. Hughes scored on a jumper with 13 seconds left to give the Bears a 31-30 lead going into the half.
Trailing 32-31 after a Bearcats jumper out of the half, George Gordon scored on a layup to give Ursinus the lead and the Bears would not trail again. Hughes cashed in on a Kpadeh steal with a three in what was a 10-0 run to put the Bears up 41-32.
The Bearcats pulled back within three and it's the closest they would come. Ursinus made nine of its next ten shots in what was a 21-2 run to take control and go up 65-43. Hughes led the run with eight points.
Peyton Vostenak made a three to put the Bears up by 20 late in the second half as Ursinus closed to win its season opener.
Ursinus shot 52.7% from the field on the night which included 46.2% from beyond the arc. Hughes led the Bears with 25 points and seven boards while Kpadeh scored 12 to go with six assists in his debut. McTamney also had a solid night, shooting six-of-eight from the field to score 13 points to pair with six rebounds.
The Bears will play Lycoming in the championship on Saturday at 3 p.m.